Building

on a foundation
of equality

Our mission of creating Ways to Age WellSM is directly linked to our strong commitment to diversity, equity, and inclusion (DEI). Ensuring diverse and inclusive teams in all areas of our organization supports each of us in Aging Well.

Mather's work towards inclusion is ongoing.
Council

Our DEI Council is composed of a diverse set of employees across locations, positions, and cultures, who serve as ambassadors for supporting and promoting diversity, equity, and inclusion throughout the organization.
Education

We foster belonging and empowerment by focusing on DEI in New Employee Orientations and ongoing employee training.
Awareness

Regular celebrations, events, and discussion groups keep DEI awareness high among employees.
Recruitment

Mather is mindful in our recruitment efforts. We employ a diverse workforce, yet we know we can strengthen diversity in leadership roles. We are committed to inclusive hiring practices, including sourcing people of color.
At Mather, we expect and work hard to have a culture of respect, understanding, and equality – embracing diversity and inclusion. We each have a role to play – through our words and our actions – showing our openness to listen and understand, to unlearn biases, and to do the right thing.
Our Employees say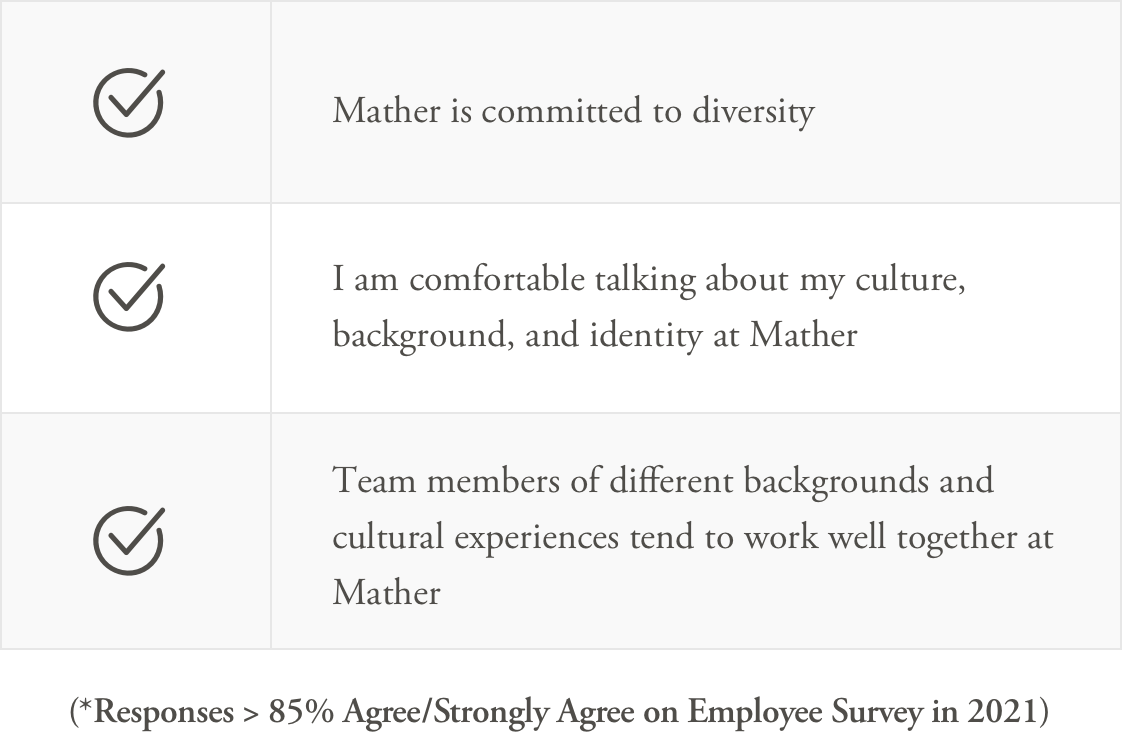 Join our team
Mather offers a wide variety of employment opportunities throughout our organization, including in our award-winning senior living residences and via our main office in Evanston, Illinois. Browse current openings by location, job category, or schedule. Note that all the opportunities in our organization are equitable and accessible.
View our current open positions
Ways to
#

AgeWell

Our Ways to #AgeWell series provides research-based tips every weekday to help you make the most out of each day. From boosting brain health to building resilience and happiness, every simple little tip can make a big difference in your life.

Follow us on Facebook to receive daily tips.

Follow on Facebook