Mather makes a
typical

day at work anything but.
MAKE A CAREER
BY MAKING A DIFFERENCE
Mather gives you a daily opportunity to do something extraordinary. Our employees work every day to create Ways to Age Well.SM In return, we are proud to provide our employees wellness programs, staff development, and online education to allow them to grow both personally and professionally.
We will commit ourselves to see beyond our abilities to our possibilities as whole and vibrant people.
WHERE ELSE CAN YOU GO TO WORK AND…
make the impossible possible
make a difference in the lives of older adults every day
get rewarded for learning something new
Mather's organizational philosophy is called "Eliminating my Impossibilities." Created to support the older adults we serve, it also serves as a guiding principle for our staff. We encourage our employees to take initiative, find new passions and skills, and eliminate barriers to their happiness and fulfillment.
Eliminating my Impossibilities is a regular part of our employee training, our day-to-day culture, and our language. We challenge you to make the most of every day, and reward you for your passion and professionalism.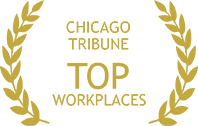 MATHER IS FULL OF OPPORTUNITIES FOR PERPETUAL IMPROVEMENT
Mather has received awards and gained industry attention for our focus on employee wellness. In addition to providing a generous core benefits package, we offer some innovative and progressive employee programs that align with our mission of creating Ways to Age Well.SM
Get rewarded for your passion and professionalism
401(k) program with strong employer match
Mather matches 100% of the first 3% of your contributions; 50% of the next 2%; plus an additional discretionary contribution of 3% after the close of the calendar year. So if you elect to contribute 5%, Mather contributes 7%. Must be 21 or better. Roth feature available.
Generous paid time off (PTO) program
PTO program includes vacation days, sick days, personal days, and holidays. Earn-as-you-go plan that rolls over year to year, offering flexibility. 
Medical benefits 
Full-time employees and part-time employees working 18.75 hours/week or more can choose between two plans, with generous premium contributions from Mather.
Tuition reimbursement promoting lifelong learning
Mather will reimburse approved tuition up to $5,250 a year with a grade of C or better. Part-time employees eligible for up to $2,625 a year.
Benefits that go above and beyond
SELF program
Employees can be reimbursed up to $75 per year for items and experiences that support their self-care, from a yoga class to art supplies to concert tickets
PTO buy-back
Twice a year, employees have the option to "cash in" a percentage of unused paid-time off and get a cash payout
Dental insurance
Full-time and part-time (starting at 18.75 hours/week) employees can sign up for optional dental coverage in a dental HMO or PPO plan
Short- and long-term disability
No cost to eligible employees; pays 60% of eligible earnings
Life insurance
No cost to eligible employees; pays 2x annual salary to a maximum of $600,000
Life insurance on spouse or domestic partner
No cost to eligible employees; pays $20,000 in event of the death of employee's spouse or domestic partner
Flexible spending accounts
Employees have option to pay into account and use pre-tax money for certain health and child care costs and commuter expenses.
Employee and family assistance program
24-hour counseling and referral services are available free to employees and their family members
Subject to change without notice. Benefits details dependent on employment status. Actual terms and conditions are governed by official plan documents.
Mather helps older adults discover their passions, learn new things, consider new possibilities, and have different experiences so they can reach a higher level of fulfillment.
EXPLORE THE POWER OF POSSIBILITIES
DISCOVER OPPORTUNITIES AT MATHER
Find where your talents can take you in a supportive, fun, and fulfilling workplace.
Visit Our Jobs Site